Upcoming Events:
7th Annual Angel Snowfest  | Saturday March 7, 2020  |  Lakeview Restaurant-St. Agatha
Fun for the whole family! Snowshoe/walk, live music, ice skating, ice bar, and poker run! In Memory of Dick & Carol Derosier. A fundraiser supporting The Edgar J. Paradis Cancer Fund, Angel Flight of New England and Patient Airlift Services (PALS). FMI: Angel SnowFest Facebook Page
2nd Annual Acadian Pond Hockey Classic  | Saturday & Sunday March 14-15, 2020  |  Long Lake-St. Agatha
2nd Annual 3 on 3 Pond Hockey Tournament off the shores of Long Lake in St. Agatha, Maine. This is a fundraising event benefiting minor hockey programs on both sides of the border in the greater St. John Valley area.  In 2019, four minor hockey programs benefited from the event as proceeds assisted with training equipment, clinics, and registration costs. FMI: Acadian Pond Hockey Website
For more information on this and other local events visit the Fort Kent Chamber's Event Calendar
here
---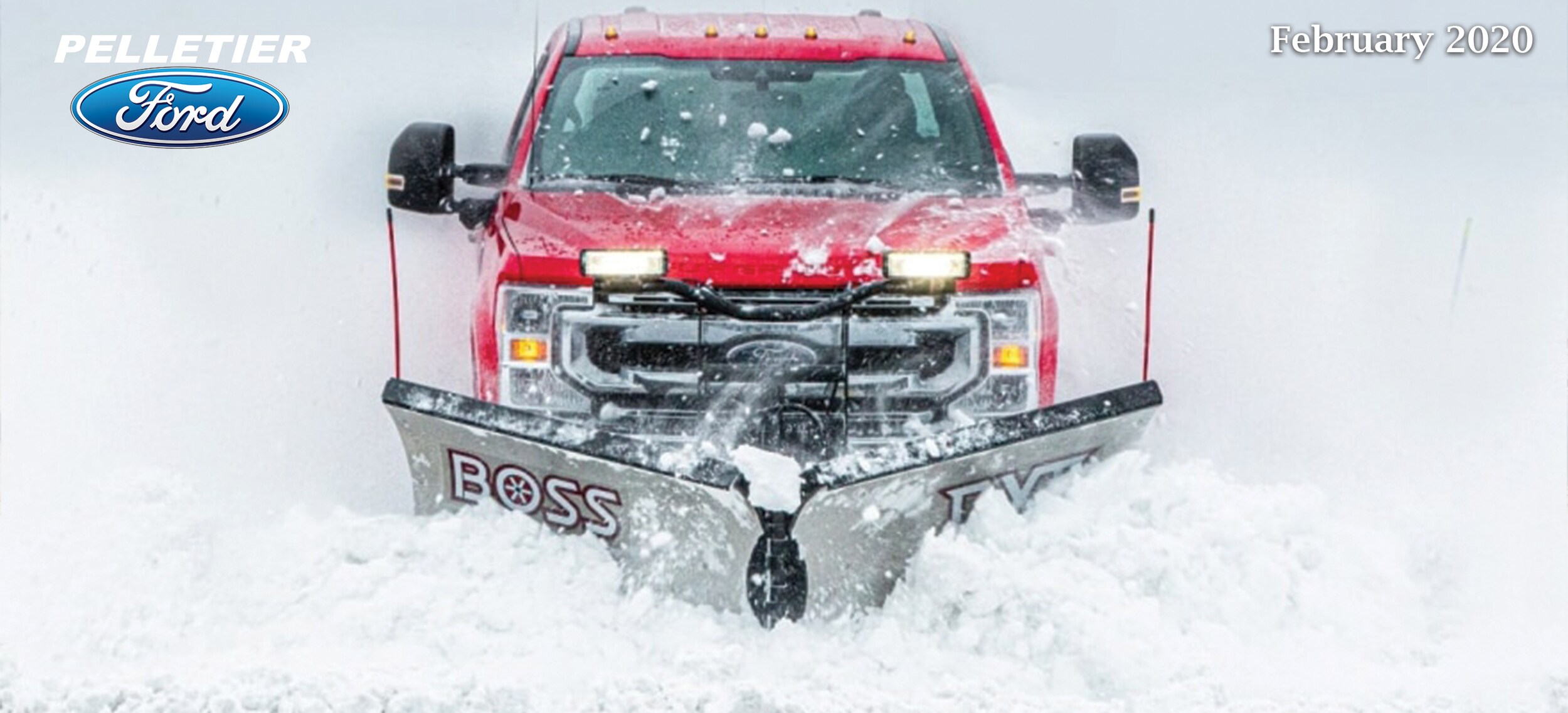 BEST-IN-CLASS 1,400-POUND FRONT PLOW RATING MAKES 2020 FORD SUPER DUTY THE ULTIMATE SNOW MACHINE
JAN 10, 2020 | DEARBORN, MICH.
                • Available Snow Plow Prep Package on the new 2020 Ford F-Series Super Duty delivers best-in-class gas 1,400-pound maximum snow plow rating which includes mounting hardware
                • Other Super Duty features help fend off the weather such as an available windshield wiper de-icer, heated steering wheel and heated front and rear seats
                • Truck owners can outmuscle the elements with best-in-class diesel power and torque from Super Duty's available third-generation 6.7-liter Power Stroke® diesel V8 and best-in-class gas horsepower and torque from all-new available 7.3-liter V8
DEARBORN, Mich., Jan. 10, 2020 - The 2020 Ford F-Series Super Duty will tackle winter's worst weather with the heaviest snow plow rating in the segment. With the available Snow Plow Prep Package, Super Duty features a maximum 1,400-pound snow plow rating accounting for mounting hardware, which is best-in-class for gasoline-powered trucks in the segment1, and maximum 1,290 pounds which is also best-in-class for the diesel segment2.
"Super Duty is a real workhorse in the snow removal industry," said Mike Pruitt, Ford F-Series Super Duty chief engineer. "With our new Snow Plow Prep Package, we're really delivering for folks who clear the way after a big storm. Being able to safely hook up bigger plows means roads, driveways and parking lots are cleared quickly and drivers can move on to the next job."
The new Snow Plow Prep Package, available for 4x4 pickups, includes heavy-duty springs specific to each configuration and an up-rated alternator to deal with heavy electrical loads.
According to a study conducted by the Snow and Ice Management Association® and Wolfworx/Singer Consulting, clearing the white stuff is an $18 billion industry in the United States, one growing at a rate of about 3 percent annually. It's comprised of more than 22,000 commercial contractors and more than 75,000 sole proprietors. 2019 SIMA survey data indicates F-Series is the overwhelming choice, with nearly 50 percent of market share in an industry that values reliability, service network and, of course, rated plow weight.
Owners will also appreciate other new features such as a windshield wiper de-icer, which pre-heats the windshield under the wipers to keep blades free of ice, as well as available heated steering wheel and heated front and rear seats. Optional white or amber LED strobe lights on XL, XLT or Lariat series trucks take a step out of the upfitting process. Deep Snow/Sand drive mode is available on models equipped with the all-new 10-speed heavy-duty TorqShift® automatic transmission. The special drive mode changes throttle mapping and traction control settings to allow for added control and greater confidence in snowy or slick conditions.
Plow operators can rely on the quality and craftsmanship of a high-strength steel boxed frame and high-strength, military-grade, aluminum-alloy body that provide a sturdy backbone. Customers have a choice of engines, including a standard 6.2-liter gas V8, an available all-new 7.3-liter gas V8 with best-in-class1 430 horsepower and 475 lb.-ft. of torque and an available third-generation 6.7-liter Power Stroke® diesel V8 with best-in-class2 475 horsepower and 1,050 lb.-ft. of torque.
Ford F-Series Super Duty is proudly built at Kentucky Truck Plant in Louisville, Kentucky, and Ohio Assembly Plant in Avon Lake, Ohio. Trucks are shipping to dealers now.
1 Available max weight on F250/F350 SRW, gas engines, 4x4, Regular Cab/Crew Cab, SuperCab short box only. Class is Full-Size Pickups over 8,500 lbs. GVWR.
2 Available diesel max weight on F250/F350 SRW, 4x4, 6.7L, Regular Cab. Class is Full-Size Pickups over 8,500 lbs. GVWR.